America prepared to authorize vaccine; Canada already ahead
On Thursday, a panel of experts gave their endorsement for the Pfizer/BioNTech Covid-19 vaccine. The FDA is expected to grant emergency use authorization and vaccination in the U.S. may begin as early as next Monday. Earlier this week, Canada became the third country to officially authorize use of the Pfizer/BioNTech vaccine.
In other news:
A California judge has blocked Los Angeles County's ban on outdoor dining, citing both a lack of evidence for the policy's efficacy in controlling the pandemic and public health officials' failure to consider the costs of closing down on-site dining for some 30,000 restaurants.
As a result of the recent Supreme Court decision, Colorado has removed its coronavirus capacity limits on houses of worship and religious events, including weddings and funerals.
The latest industry survey reveals more than 110,000 restaurants have closed permanently or long-term across the country as a result of the pandemic.
A 40,000-person Icelandic study found that "children under 15 were about half as likely as adults to be infected, and only half as likely as adults to transmit the virus to others. Almost all the coronavirus transmissions to children came from adults."
Writing in the Atlantic, Harvard epidemiologist Julia Marcus reminds us "When people take risks, it often reflects an unmet need… Acknowledging and meeting people's needs will reduce risk behavior; finger-wagging won't."
Our team member Ian Miller prepared a new series of charts showing mask mandates have not worked.
Interested in becoming knowledgeable on COVID? Become a premium member. Our premium members get special access to our personal data dashboards and analysis.
Want to support our work? Visit our Substack page and leave us a tip.
On Rational Ground for our premium members, our data analyses will always be available to you. Interested in becoming a COVID expert? Become a premium member.
Additionally, we just released an update on how COVID-19 is playing out on university campuses.
COVID News
The FDA says it will authorize Pfizer's COVID-19 vaccine, paving the way for people in the US to start getting shots as early as Monday
https://www.businessinsider.com/fda-authorize-pfizer-covid-vaccine-biontech-alex-azar-2020-12
The US Food and Drug Administration has said it intends to authorize Pfizer and BioNTech's COVID-19 vaccine.
The agency's Commissioner Dr. Stephen Hahn said Friday morning that it would "rapidly work toward finalization and issuance of an emergency-use authorization" for the shot. Pfizer's two-dose vaccine would be the first to be authorized for use in the US.
The FDA said it had notified the drugmakers as well as the Centers for Disease Control and Prevention and the federal vaccine initiative known as Operation Warp Speed so they could "execute their plans for timely vaccine distribution."
The vaccine could be rolled out as early as Monday, Health and Human Services Secretary Alex Azar said on "Good Morning America" on Friday morning.
"We could be seeing people getting vaccinated Monday, Tuesday of next week," Azar said.
F.D.A. Advisory Panel Gives Green Light to Pfizer Vaccine
Pfizer's Covid-19 vaccine passed a critical milestone on Thursday when a panel of experts formally recommended that the Food and Drug Administration authorize the vaccine. The agency is likely to do so within days, giving health care workers and nursing home residents first priority to begin receiving the first shots early next week.
The F.D.A.'s vaccine advisory panel, composed of independent scientific experts, infectious disease doctors and statisticians, voted 17 to 4, with one member abstaining, in favor of emergency authorization for people 16 and older. With rare exceptions, the F.D.A. follows the advice of its advisory panels.
With this formal blessing, the nation may finally begin to slow the spread of the virus just as infections and deaths surge, reaching a record of more than 3,000 daily deaths on Wednesday. The F.D.A. is expected to grant an emergency use authorization on Saturday, according to people familiar with the agency's planning, though they cautioned that last-minute legal or bureaucratic requirements could push the announcement to Sunday or later.
California judge says L.A. officials 'arbitrarily' set outdoor dining ban
SACRAMENTO — A judge on Tuesday dealt a rebuke to Los Angeles County public health officials racing to control Covid-19's spread, blocking an indefinite ban on outdoor dining announced late last month.
"By failing to weigh the benefits of an outdoor dining restriction against its costs, the County acted arbitrarily and its decision lacks a rational relationship to a legitimate end," wrote Los Angeles Superior Court Judge James C. Chalfant in a tentative ruling issued Tuesday to a legal challenge from the California Restaurant Association.
The tentative ruling to block the open-ended ban won't have immediate practical consequences for Los Angeles-area restaurants, as the county is now under a temporary stay-home order tied to the region's quickly diminishing ICU capacity. But it marks a symbolic and legal victory for those challenging the emergency powers flexed by state and local officials — and a rare setback for public health authorities facing a worsening crisis.
Ruling: https://www.courthousenews.com/wp-content/uploads/2020/12/CRA_LACounty-RULING_compressed.pdf
Restaurant Closings Top 110,000 With Industry in 'Free Fall'
https://www.bloomberg.com/news/articles/2020-12-07/over-110-000-restaurants-have-closed-with-sector-in-free-fall
More than 110,000 restaurants have closed permanently or long-term across the country as the industry grapples with the devastating impact of the Covid-19 pandemic. And more pain is ahead, with a potential shutdown of indoor dining in New York City just as the temperatures drop.
The nationwide tally — representing one in six U.S. eateries — is among the findings of a survey released Monday by the National Restaurant Association. The figure was up from about 100,000 shutdowns in a September survey. The Washington-based trade group shared the latest results with Congressional leaders in an attempt to secure financial support for a sector rocked by rising costs and falling sales.
"The restaurant industry simply cannot wait for relief any longer," Sean Kennedy, executive vice president of public affairs at the association, said in a letter to Congress. "What these findings make clear is that more than 500,000 restaurants of every business type — franchise, chain and independent — are in an economic free fall."
Colorado drops coronavirus capacity limits on houses of worship after U.S. Supreme Court ruling
Colorado has dropped its coronavirus capacity limits on houses of worship and religious events, including weddings and funerals, after a recent U.S. Supreme Court ruling cast doubt on the legality of such restrictions.
State public health officials are still recommending that houses of worship limit the number of people attending services. But an amended order released late Monday night by the Colorado Department of Public Health and Environment appears to concede the state likely cannot enforce capacity caps following the Supreme Court's decision.
"Worship and ceremonies such as weddings and funerals are classified as essential," CDPHE said in a news release. "This means that they must do their best to follow public health recommendations but may exceed recommended capacity caps if they cannot conduct their essential activity within those restrictions. They still must require masks indoors and other prevention measures like 6-foot spacing between members of different households and appropriate sanitation. Outdoor activities are still strongly preferred."
Commentary/Analysis
The Danger of Assuming That Family Time Is Dispensable
https://www.theatlantic.com/ideas/archive/2020/12/tis-the-season-for-shame-and-judgment/617335/
Pandemic shaming, a national pastime since the spring, intensified in the weeks leading up to Thanksgiving. Thousands waited in line, some for many hours, for a preholiday coronavirus test, only to be rebuked as careless, selfish violators of public-health rules. "I do want people to understand that testing on Thursday so you can party on Saturday: That doesn't work," said Barbara Ferrer, Los Angeles County's director of public health. "It's not effective, and you really are in some ways wasting a valuable resource." Those long lines included people whose families were begging them to visit; students whose campuses had just closed for the semester; and people who were observing state rules requiring visitors to get tested 72 hours before arriving. Yet even people who were trying to be careful weren't spared from criticism: Many news articles and comments from public officials portrayed Thanksgiving travelers, regardless of the precautions they were taking, as irresponsible people. On social media, they were maligned as #covidiots, recklessly endangering themselves and their loved ones.
What happened then is about to happen again, as millions of Americans travel for the winter holidays and decide whether and how to gather with relatives. Public-health messaging and policies during the pandemic have acknowledged that trips to grocery stores and pharmacies are essential, while grossly underestimating the strong need people feel to be close to one another. Lecturing showed its limits in late November: While millions heeded the recommendation to stay home, millions of others did not.
What Has Lockdown Done to Us?
As the winter has deepened, the pandemic has surged. In the United States, case counts and hospitalizations are hitting and exceeding their highest points since the pandemic began. Countries across Europe have reinstated lockdowns and there are rumblings that states across the country could soon follow suit — some parts of California, for instance, have instituted new stay-at-home orders.
Renewed lockdowns may be necessary, but they would be no panacea for public health, and we should not put them in place without carefully considering the human costs, which are broad and deep. It is imperative that we learn from and apply the lessons of the initial lockdowns.
Extended social isolation can have serious health implications, from heart disease and dementia to depression and death. During the pandemic, our diets and lifestyles got worse, increasing our vulnerability to the very disease that isolation is meant to help address.
Our mental health suffers, too. The psychological effects of loneliness are a health risk comparable with risk obesity or smoking. Anxiety and depression have spiked since lockdown orders went into effect. The weeks immediately following them saw nearly an 18 percent jump in overdose deaths and, as of last month, more than 40 states had reported increases. One in four young adults age 18 to 25 reported seriously considering suicide within the 30-day window of a recent study. Experts fear that suicides may increase; for young Americans, these concerns are even more acute. Calls to domestic violence hotlines have soared. America's elderly are dying from the isolation that was meant to keep them safe.
Research
Exclusive: Kids catch and spread coronavirus half as much as adults, Iceland study confirms
https://www.nationalgeographic.com/science/2020/12/we-now-know-how-much-children-spread-coronavirus/
In the midst of the worst surge of COVID-19 cases in the United States, many state and local officials are again wrestling with the hot-button issue of whether to shut schools down. Now, emerging research confirms that schools aren't the primary drivers of outbreaks, but cases will seep in and contribute to the disease's spread whenever a country loses control of containing the pandemic.
National Geographic was given exclusive access to the results from an Icelandic study that provides definitive evidence of how much children contribute to coronavirus spread. Researchers with the nation's Directorate of Health and deCODE genetics, a human-genomic company in Reykjavik, monitored every adult and child in the country who was quarantined after potentially being exposed this spring, using contact tracing and genetic sequencing to trace links between various outbreak clusters. This 40,000-person study found that children under 15 were about half as likely as adults to be infected, and only half as likely as adults to transmit the virus to others. Almost all the coronavirus transmissions to children came from adults.
Charts and Graphics
Post-Thanksgiving mask charts: Still no evidence that masks work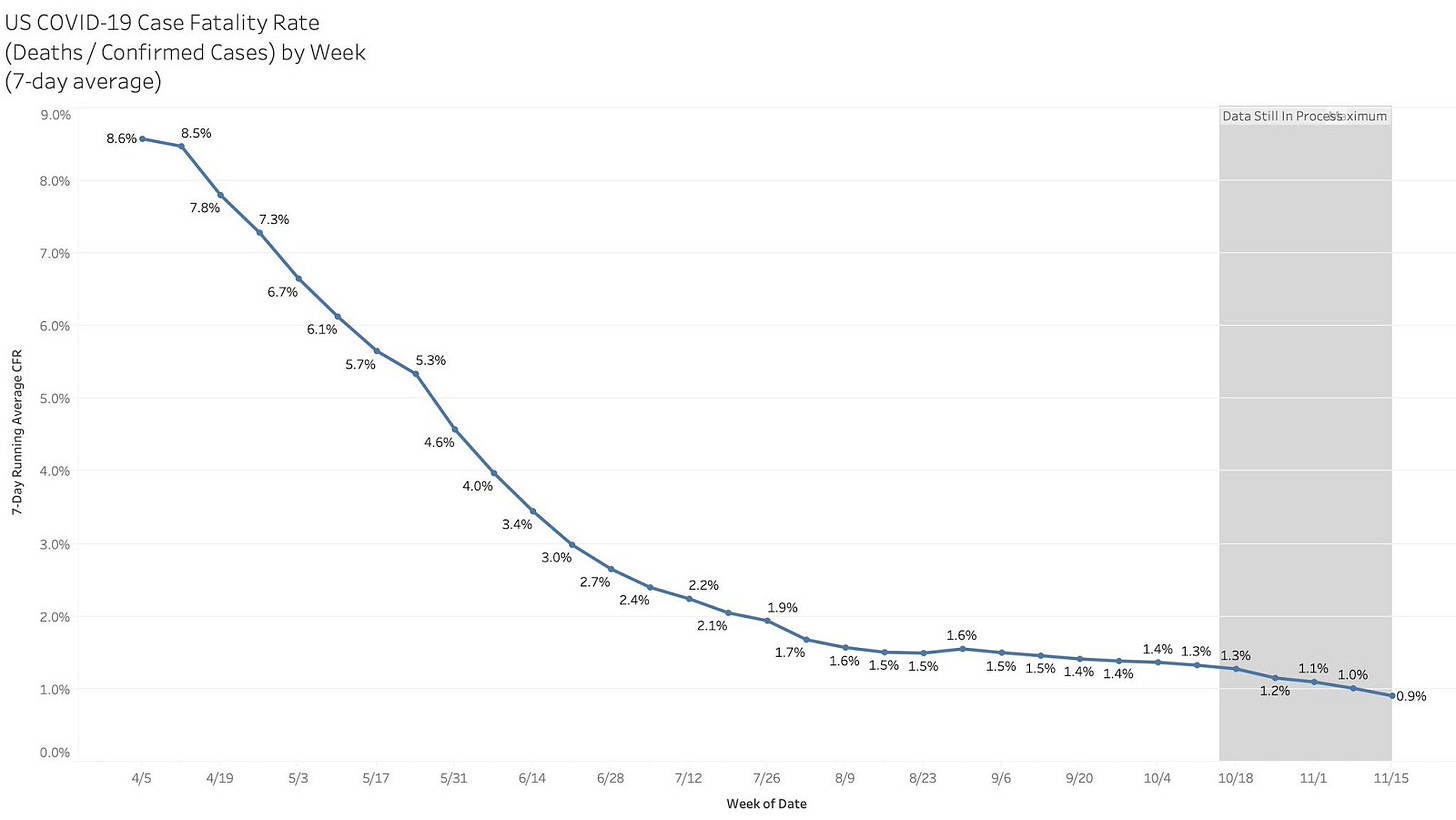 International News
Canada Authorizes Covid-19 Vaccine From Pfizer and BioNTech
https://www.wsj.com/articles/canada-authorizes-covid-19-vaccine-from-pfizer-and-biontech-11607531030
Canada became the third country to authorize use of the Covid-19 vaccine produced by Pfizer Inc. and BioNTech SE, racing ahead of the U.S. Food and Drug Administration and Europe's main regulator to approve shots for its most vulnerable citizens.
Canada will now begin its immunization rollout as early as next week—a daunting challenge for a country that is the second-largest in the world in terms of land mass yet sparsely populated. The country is on schedule to begin inoculations next week, with a portfolio of vaccine candidates that it argues is among the most diverse among large economies.
The F.D.A. is expected to authorize use of the vaccine as early as this weekend, after its own study concluded the two-dose vaccine provided benefits even after just the first injection—cutting the risk of getting Covid-19 by about half. The vaccine was found to be 95% effective after the second dose. The European Medicines Agency has said a decision on either the Pfizer-BioNTech shot or Moderna Inc.'s vaccine could come by the end of this month.
Canada joins the U.K. and Bahrain in approving the Pfizer-BioNTech vaccine within the past week.